James has returned from his travels last week . He was in Thailand, Vietnam, Bali and then Australia visiting Perth ,Melbourne, Darwin , Brisbane ,Byron Bay and ....
So far he is giving us very little detail of his travels, with vague answers at best ,possibly on the basis of "what I don't know won't trouble me" as he does not want me having nighmares or more likely is the fact that he simply cannot remember !! Anyway he enjoyed the 16 months away from home and met lots of family friends who were very good to him. I thank you all on our behalf for your generosity to James especially Mary and Tim in Perth.
I am sure the stories will emerge with time or a few drinks ! I am checking my bag right now for that last ampoule of "truth serum" I have been saving for his return...... HOLD ON THERE has been an unexpected breakthrough as James has been sucessfully bribed to give a brief account of his travels ...see below
This is part one of James' travel recollections of Thailand etc.
So it is definitely a bit of a culture shock when you first get off the plane and venture out into Bangkok but intermixed with all the food stalls, tuk tuks and temples there is always a big florescent MacDonald's sign somewhere in the distance to offer you comfort that you haven't strayed too far away from the main tourist areas. Sam and I were waiting on Saff arriving the next day so we decided to head out to the famous Koh San road which is just basically a street gagging to take advantage of all the fresh naive backpackers but since we didn't know any better we had a cracking night. Unfortunately for Saff this meant she was wandering around Bangkok by herself for 3 hours the next morning waiting for one of us to wake up and answer our phones.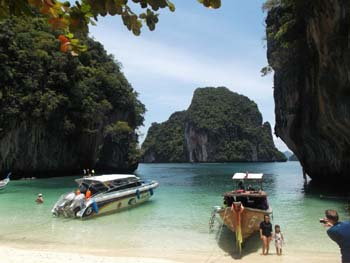 We headed south on one of the overnight trains, one word of warning never get the cheapest option of any form of transport around Asia you will regret it, and proceeded to island hop. Koh Samui, Koh Tao and Koh Phangan were all brilliant and different at the same time. Koh Tao is world renowned for its diving and fortunately one of the cheapest places to do a diving course. Diving is a weird but fun experience, learning to fight the instinct to hold your breath when you are submerged is a difficult one to overcome. Koh Phangan is famous for the full moon party which is just a 20,000 people partying on a beach in the shadow of "mushroom mountain" as it is fondly known. I will not go into too many details about that night as many details are still to this day not known and hopefully will never be known.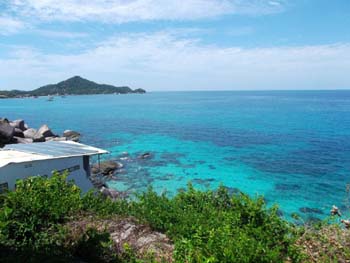 We proceeded across the Thailand to Krabbi which had some of the most great/horrible markets in the world. Great in the fact they are so cheap and have some amazing unknown stuff that is terrifying to try. But horrible when the stuff you try turns out to be an utterly shit part of an animal. Not quite content finished island hopping we headed to Koh Phi Phi which is the main island beside the bay where the beach was filmed. They operated a few makeshifts tours out to Mayan bay (the beach) and unfortunately for us there was a thunder storm brewing on the day we decided to go. When the Thai men driving the little tinder boats stick on their lifejackets you know you have to worry. We arrived around the back on the bay where you have to climb through a few rock tunnels to get to the makeshift set of stairs over the back of the bay. Pity these rock tunnels where flooded and people where getting thrown all over the place due to the strength of the tide. But finally we managed to get to the beach where the strength of the wind blew sand in our face for the five minutes it took us to get a picture and say bugger it and head back. It's funny how whenever you're travelling whenever something shit happens people call it an experience!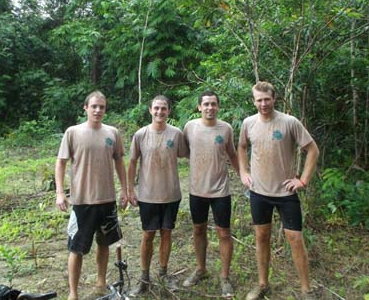 Despite my moaning ,Thailand was truly beautiful and exceptional place but it was time for me and Sam to take a weekend trip to Vietnam to meet a friend from university who was working teaching English to kids in Ho Chi Minh City. Now if i thought Bangkok was a shock to the system this is a different world altogether. Replaced where the calls of people asking you if you wanted a massage to the sound of thousands of mopeds going in completely different directions shouting abuse and beeping their horns at each other. We were joined by Neal and the three of us after a heavy night headed north on a random bike to do some mountain biking. Jack was meant to have the all arranged but when the bus decided to stop a few kilometres away from the destination we had to get a few random locals on mopeds to bring us the extra few km. This turned out to be a death race between the locals is the pissing rain but as previously discussed it's all part of the experience. The mountain biking was run by a young English guy and it was great fun ploughing along the jungle tracks. The trip back was a little bit less death defying but we were still just four people out of 26 in a 17 seater minibus.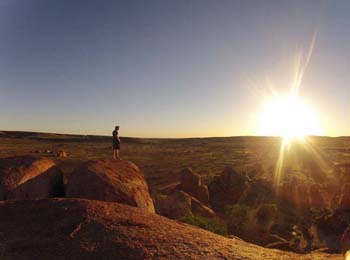 James and Sam the new Aussies
This is James' version of events down under in Australia. So after about a month travelling round South East Asia (which only included one unfortunate incident with a lady boy) my friend Sam and I arrived in Perth, Australia, a little worse for wear. Thankfully my mum's first cousin Mary and her family took pity on us and put us up for a while and her husband Tim sorted us out with a job on a construction site. Now, I am not naturally built for labouring but thankfully the Aussies are a naturally lazy people so we managed to hold our own quite well. Even though one lad did admit to me that he wouldn't follow me into war with a shovel.
Christmas day was a little different that year not only because it was 43 degrees but spending it with all the fellow travellers in a hostel was not something I was used to. But not being forced to go to church by the mother and getting drunk on the beach were definite plus points. I did miss the Christmas dinner though. After saving up a decent amount of money Sam and I were joined by two friends from Glasgow Graeme and Abi and we embarked on an epic 5 week road trip. We started by swinging down the South West coast and then across the Nullarbor, which was just two 10 hour days of driving past nothing passing through villages with a population of about 10 people and then all the way up the middle of Australia in the Northern Territory. We ended up travelling over 10,000km of which I only drove 8Km. Some of the highlights along the way were the cycling wine tour at Claire valley, 62 wineries along a 20km track was a challenge we didn't take on lightly as well as getting stuck in a tiny outback town called Maree where Guy Pearce and that twat from the twilight movies were filming. But the vast emptiness intermixed with the stunning beaches and national parks were incredible and an experience I would recommend to anyone but maybe don't do what Abi did and have to deal with 3 stinking boys in a stuffy campervan for 5 weeks.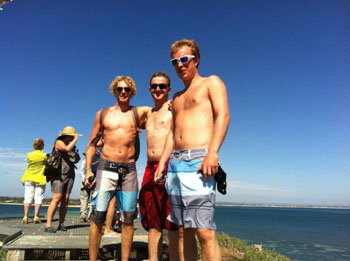 When I finally decided to return to civilisation I settled in Melbourne which is a belter of a city but money was a little tight as Australia is a ridiculously expensive country. For instance a pint of beer would roughly cost you 10 dollars (£7) and a pepper about 3 dollars. So since circumstances were dire I ended up doing a medical trial. I sought out medical advice beforehand but when the reply was "your penis is going to fall off you junky "I thought it was safe to go ahead.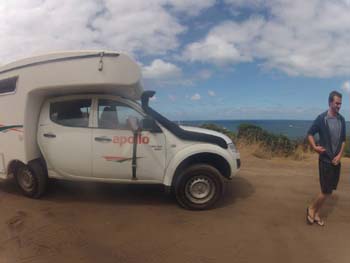 So I got to spend 12 days and nights in hospital with a personal TV and 3 square meals a day which I hadn't had in a long time so overall it was definitely worth it and a haven't come across any side effects yet. Right enough once dad did actually look into the drug I was taking he wasn't too pleased but I feel like a contributed to the nice pharmaceutical companies and it founded my east coast trip. I also got to a lot of Aussie rules football games when I was in Melbourne and it is one of the weirdest games about it almost as if the first settlers weren't the smartest bunch and couldn't understand the rules of Gaelic football and rugby so they just made a stupid hybrid game.
After I travelled down the East coast which is another fantastic experience, particular highlights are Whitsundays and Fraser Island, I settled down in Byron bay. Which is a nice wee hippy/backpacker community. Everyone is planning a revolution or organic way to save the world there but it is truly a wonderful place to settle. It has some of the most beautiful views and walks whales are almost always mucking about just a wee bit off the coast. As well as working as an assistant manager in a pub (it is now shut done due to very poor management) I also worked in the hostels for free accommodation and part of my job was to take people on a walk up to the lighthouse and back along the beach at sunset. Needless to say, I never even once took advantage of this situation and was never seen pretending to be a sensitive soul beside the prettiest girl on my tour. But alas I started to feel like it was time to return to bleak weather/ran out of money and returned for some home comforts. The money situation is actually that bleak I am being paid 5 pounds by dad to write this now. Obviously a lot more happened in my year and a half travelling but don't think it's really important/appropriate to write it all down for the Christmas newsletter !