Wimbledon Tickets are released to the masses.
Liz was getting ready and excited for over a week before the big Saturday. At last a chance to try and get the much coveted Wimbledon tickets on line from Ticketmaster.
The tickets were released on Sat 27 th June at High Noon..... Ticketmaster vs Liz Tangney …. .it could only end in tears.
Yes, after one and a half hours continuously clicking the "buy now" button with the red hot mouse (we all know the Slatterys are not easy quitters) Liz reluctantly pushed her wheelie chair back from the computer desk with a style not unlike that of a beaten but still proud professional gambler in Vegas, shaking the head , glazed eyes but still one finger on the mouse in case of a last minute miracle. Finally using every last ATP molecule of energy reserve, Liz slowly gets up from the seat and then a series of heavy sighs….all the kids were now sneaking stealthy out of the room as this could go either way ,…. a big sobbing session or……… a very big Hiroshima ..…nobody was brave enough to stay in the room to find out !! It was cruel beyond belief as all that total pure concentration, not even a single blink for a full 90 minutes , in fact not even a cup of tea (or toilet break ) such was the determination and tenacity rarely seen in the Tangney household …(Unless somebody was looking for hidden drink the morning after a big night out).
Apparently all the tickets were sold in 8 seconds , I hear you gasp, yes just 8 seconds !! So Liz was gutted, the Wimbledon ticket dream was shattered. Liz was now in a trance like state and one would think she had been in a boxing ring for 12 rounds. She was unusually quiet and monosyllabic. When I accidentally probed about how many tickets Liz was trying to buy, she let slip that she was so desperate that she even tried to buy one ticket !! I was not best pleased at this news and said I was not going with her if there was no ticket for her "nearest and dearest". So I was slightly miffed and took it on the chin.
However all was not lost I spotted that another tranche of tickets were due to be released at 9 am next day on Sunday morning. So, up at 8.50 on Sun morning, not easy and logged on the Ticketmaster website for another battle to the death. Of course Ticketmaster was weakened from the previous day's encounters with Liz. So after only 11 failed attempts and at 9.10am I had the chance to buy two Centre court tickets for the next day. I was looking at the screen in disbelief, wow two tickets for centre court, a dream come true. So this was a game changer, day one and two tickets for centre court !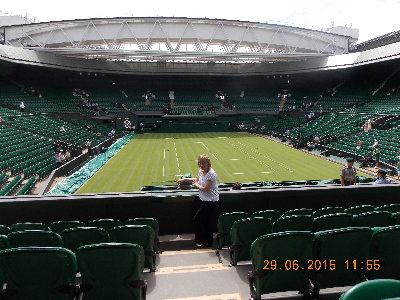 Centre Court
On Sun evening at 7pm we boarded the "Sleeper Train " in Fort William which travels overnight to London. The so called "Sleeper" train passengers should have an interview before you board.
1. Have you ever slept through an earthquake ? 2. Do you like roller coasters ? 3. Are you a big lover of confined spaces ? 4. Have you had a large drink this evening ? 5. Are you on good terms with your cabinmate?
Luckily we met David and Frances Sedgwick who were going to London to see their son Robbie. A few drinks, a few stories, a few million words and the next four hours were gone in a flash.Suddenly, we were sent to our cabins by the staff. I foolishly decided to let Liz have the top bunk and had to push her up the ladder while warning her to stay quiet and not to snore. If you are even mildly claustrophobic beware the cabins are smaller than the cells in Alcatraz. I managed about 10 min sleep and was even thinking about saying a rosary in sheer desperation as we raced down the country in pure rattle and roll.
MONDAY Day one
Now Monday 9am and we arrived in Euston station London. A quick goodbye to David and Frances and their plants. Now the crowds began as we go up the escalator and the "runner " passengers try to edge past us saying "keep to the right ". Everybody seems to be in a hurry to get somewhere fast. Welcome to London !
There were just masses of people racing along like the wilder beast migration in Africa. This was our first introduction to the London crowds. The we hit the subway and it's squeeze in time ! The trains were packed and seats at a premium. No eye contact whatsoever and not a smile to found anywhere. It was a United Nations and truly multicultural experience. Anyway the tube is really quick and we changed at Victoria (if not we would have ended up in Brixton which is a far cry from Wimbledon). So next stop Wimbledon we hoped but then 3 stops too early the train stops suddenly in "Putney Ease" due to a points problem. We just had to wait and fortunately we arrive in Wimbledon station at 10.30am.
Out of the station and walk up the hill to reach church street and the "Horse and Hound " where we were booked in to stay for two nights.(This was our Christmas present from the boys ).The staff were very friendly and helpful. Then we pull out the map and head to the Wimbledon complex. We were there in 15min and as we had tickets there was only a tiny queue at gate 7. The whole complex is huge and we then see centre court for the first time , a wow moment ! We go in at 12 o clock and it was near empty and went down to the front. Our seats were up high but the view is great all over the stadium. On at 1pm was Novak vs Kohlschreiber. The atmosphere when full is just fantastic and to see the world number one in centre court is a dream come true for Liz and myself. Next on Sharapova vs Konta , then Wawrinka vs Sousa. Then we go back to the pub for a few beers and Pims for Liz which worringly she seemed to become more fond of day by day.
The Wimbledon village is buzzing with people and many drinking outside. Passing the estate agents who are a plenty shows the vast wealth in this desirable area. Houses for sale between £3-9 million and rent 4-10,000 per month. Swimming pools etc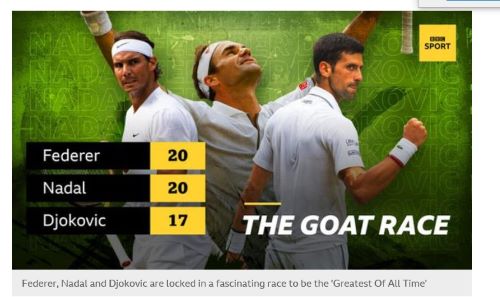 Rafa my hero up close
TUES Day two. No tickets so the "queue" awaits
We get up at 7.15 and have breakfast and then head off to the "Queue". The queue is quite a distance from the front gate of Wimbledon and it takes us 25 min doing a brisk walk. There were some ominous signs as some of the stewards said you will not get in before 5pm. We did not believe them and our optimism said let's see. When you reach the large field where the queue begins it is like a military operation. We walked past a large queue of about ½ a mile to reach what can best be described as a "holding area" in a field which joins the end of the queue. One is directed to go to the left side and follow the green flag. Only then are you given a queue card which is vital. There were 10 huge holding queues over a 1000 yards long each and when we arrived at 8am all 10 were full so extra lines were formed. We were number 9069 and 9070 . This was not good news for us as only the first 8000 are guaranteed to get in. Unfortunately Andy Murray , Rafa and Roger were all playing that day . It was 33 C and we nearly cooked in the queue. We became friends with half the country in the queue. Japanese /Chinese …It was like a big social event/concert with rugs, picnic baskets, newspapers, tea/coffee, toilets , tents ….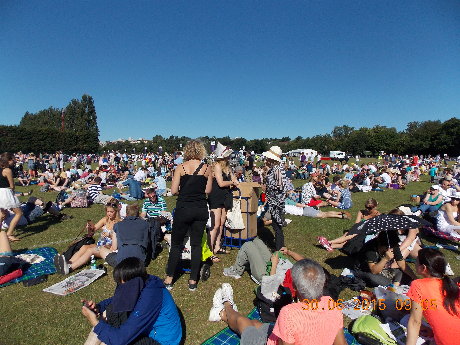 This is the "holding area" 10 lines each over 1000 yards long before you join the "Queue"
So after an extraordinary long day ….nine and a half hours queuing in scorching sunshine ......... we finally get in at 5.30pm.
I promise never to complain about a queue ever again, that has to be the worst ever queue. We were too stubborn to leave as many people did over the course of the day. Everybody agreed and all the veterans confirmed that was the worst queue ever in Wimbledon history and we were there !
But then a rub of the green as we approach Murray Mound we spot the ticket resale queue is small. So we get tickets for court number one for a fiver each ! We saw Berdych vs Chardy . 4 sets and three tiebreakers and a great win for Berdych. Court one is fantastic and all the queuing was finally worth it. Centre court and court one in the first two days , not bad !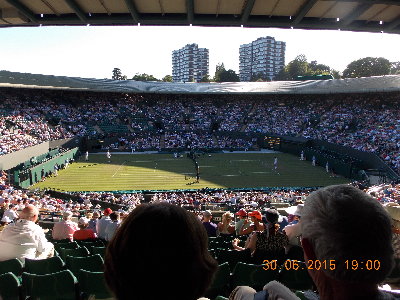 Court Number One
WED Day 3
Older and a lot wiser we are up at 6am. No time for breakfast and we hit the road. A taxi was passing and we hop in. In no time at all we are heading down the field towards the Queue. Suddenly I realised that I had left my camera in the taxi as we were rushing ….disastrous as all the phots of the previous two days. I got the queue ticket first number 5397 at 6.40am. Then I abandoned Liz and back to the main gate to speak to a taxi driver who was very helpful and gave me a phone number to ring. 20min later the original taxi driver arrived with my camera. I paid him and was delighted to have the cameras back.
We had great company in the queue, an Irish American called Alex and two lads from Tooting. A wide range of topics were covered again including Cuba and Coalitions. Day three was a piece of cake as the queue raced along; there was hardly time for photos. Another scorching day 34C and we were in at 11.30am. Just under 5 hours in the queue and it was gone in a flash. This time we browsed around the outside courts and settled in Murray Mound. Then to the practice courts I saw my hero Rafa with uncle Toni . I was just about 6 feet away from him and he was practicing his serve. He is such a modest man and when somebody said "Good Luck Rafa " He replied "Thank you very much " and then signed tennis balls for some kids .
So off home Wed evening .........