Off to France for a week for Shane and Mike's much awaited and anticipated wedding. Bordeaux airport on a hot Sat night in August at 10pm is not much fun, everybody was tired and cranky as it had been a long day. Still had the car hire to sort out and thankfully we decided to hire two cars for the week. Liz and myself don't car travel very well together and we asked for volunteers to accompany the drivers ....So 5 Tangneys with me.... and 1 with Liz ...After a mini protest Liz had two more "volunteers" to go with her.....I have to admit it is not easy to adjust to driving on the other side of the road late at night and trying to figure out the new sat navs but we finally got going. We arrived in the Chateau about an hour later which was very spacious and ideal for a family. It was situated in a vinyard and had a swimming pool,volleyball court and more importantly a ping pong table.
So the ping pong battle began on Sun with a whole series of matches. David (Wing Wong) was knocked out in the semifinal by Aoife. Ciaran was in top form and narrowly beat Aoife in the final. the prize fund of 60 euros definitely seemed to spurn Ciaran on and Aoife was gutted missing out on this unexpected euro wedding fund boost !
Next came the volleyball series over the week and my debut was not a happy one . I was deliberately targeted by certain memebers of the opposition namely David ,Aoife and Ronan who showed no mercy .....but I will not forget !
The day before the wedding we drove about 10km to Creon in search of the bike rental shop. The two car convoy was not without its problems as we had lost each other on arrival in the small town square.After about 30min we eventually found the shop but not Liz and in the meantimes had a close encounter with the gendarmes as we were going up a one way street. We put our hands in the air and reversed sheepishly. They were not amused and waved us on. Joseph was now sent on sent on foot to track down Liz and her crew.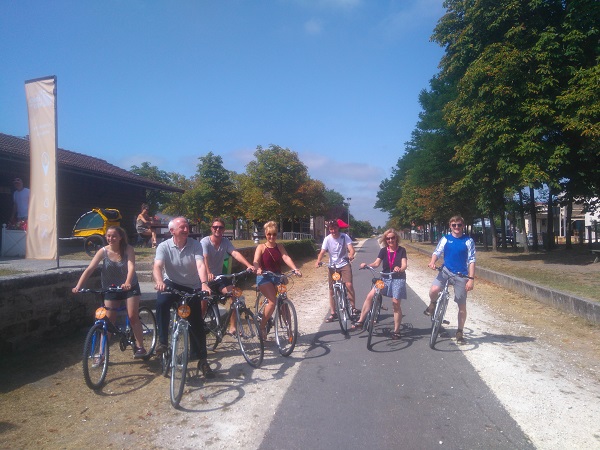 Finally we are all at bike shop and ready to go to Dignac for lunch. The cycle track was an old railway track and very scenic with vineyards everywhere. We were truly out in the country and begining to wonder if we were lost.
David started to cry chicken and said we should go back ......we had now cycled about 10km. The peloton was getting weary with the heat. We all stopped and had a quick "pow wow" and decided to go around the next bend and there it was the elusive wee village.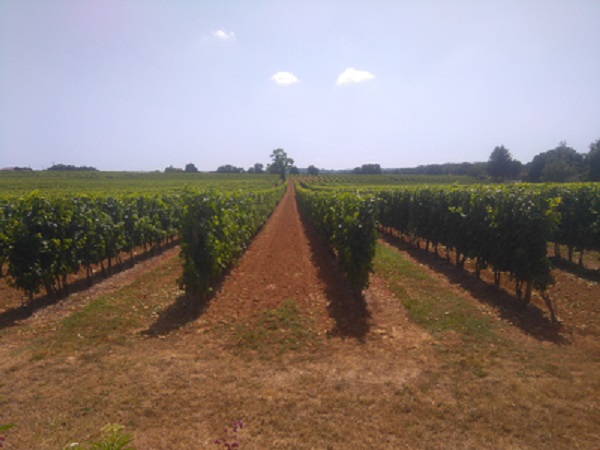 So we cycled into the village about 1pm which looked totally deserted apart from two more cyclists. Our peloton pulled over and a very unlikley place to eat called Chez Marie was approached with caution. Aoife our chief scout declared it open as she pointed to the sign saying "overt". In we all rush now starving and it was like a step back in time. We were greeted by an elderly lady who was the owner with her husband. It was busy with lots of locals which is always a good sign. The Olympics was on TV up in the corner. It looked as though nothing had changed there for the last 50 years.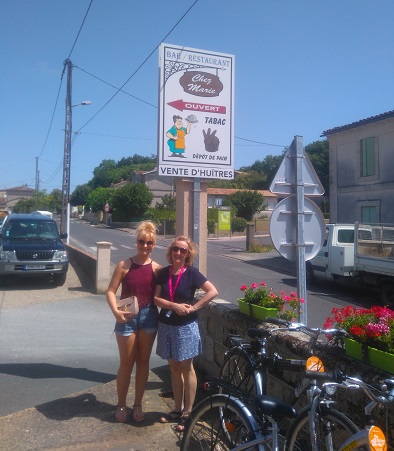 As we had rushed in the front door so delighted that it was actually open we didn't spot the blackboard menu outside. We were all seated together at a long table and within a minute two large jugs of wine were in front of us. One red and one rose which Joseph naively thought the rose was juice ! Then bread ,soup, ham,then beef tomato eggs,then fois gras,then steak,then potato,then a large cheese board,then ice cream , then coffee.....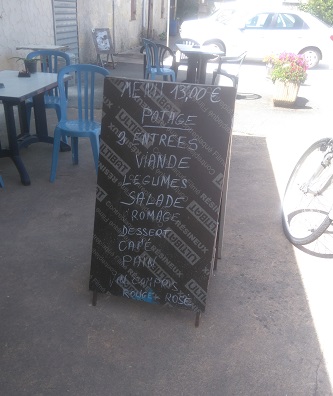 Then to crown off a wonderful true French countryside lunch when we went to pay it was only 13 euro each. I was nearly speechless as we had a seven course lunch !! It was simply fantastic and we gave a generous tip to Marie for all her delicious cuisine.
We could have been there all day except we had to have the bikes back by 3pm and collect James from the airport at 4.30pm. So all out the door some half cut and ready for the cycle back to Creon. Then unexpectedly Aoife discovered she had a puncture so all those years of fixing punctures in my not so distant youth came in very handy. We had a tiny amount of half dried glue and one patch so the pressure was on to fix it quick. Alas nothing simple we could not find the puncture despite everybody almost staying quiet for a few seconds ! Liz saved the day as she went back to Chez marie and somehow with a few french words from secondary school to get a bowel of water. Desparation was setting in as we still struggled to find the tiny puncture. Then a few bubbles were spotted by the now large onlooking crowd and we collectively experienced unparalleled joy as we now knew Aoife would not have to walk the 10 km home on her own !
So yet again the peloton was on it's way but slowly this time as heavily laden down by the massive lunch.The way back was much tougher not just due to 29C but many gentle long uphill climbs. We eventually arrive back at the bike hire shop almost 2 hours late and the kind lady did not charge us a late fee.
Then Uber Joe gets to work as I had to collect Michael,Mary eanna,Cormac at the train station and James at the airport.
It was hectic from then on as all the wedding guests were arriving and hitting the drink.It was a three day event and guests came from far and wide. The wedding venue was spectacular and in a beautiful country chateau. Shane had put in a huge effort organising the wedding for over a year and we all enjoyed the great occcasion.