What a year it has been! New Zealand continues to provide great people and fantastic scenery so much so that it seems I may never leave. I must thank my mum and dad for popping me out in such a beautiful country, the passport has been a gem.

It is no surprise to hear that Calum and Kane were given a lifetime ban from this Japanese "all you can eat" restaurant !!

I started the year with a trip to Japan with Calum, Kane, Bink and his Japanese girlfriend. We landed in Tokyo and spent new years eve there! In a balmy -1C degrees we ventured out to the busiest crossing in the world, shibuya, in our kilts (keeping the tradition of true Scotsman alive). In the most surreal and odd experience I have ever had, a number of Japanese karate street kids came over to us and ask to "kick us". Already numb with the cold and copious amounts of drink it didn't take much to persuade me. Kilt up in the air and bare arse on show, by which point a rather large group of people had gathered to see the spectacle, the Kung Fu showdown begun. Now these kicks where precise enough to take the wings off a fly and made quite a large slapping sound. Now you would think the story would end here, odd enough as it is, but the crowd wanted more. And if you know the Tangney's well enough by now you know they are people pleasers at the core. Its just a shame there are no photos of the occasion, I'm sure it's on some Japanese social media somewhere. The rest of the trip was eating all you can eat noodles as you can see in the photos and some powder skiing!

The boys were finally asked to leave when they had eaten the whole town's brown noodle stock and Calum set a new record of 154 bowls ....Ciaran 114 and Kane 130....

I landed back in NZ and started working at my old construction job but by this time I was wanted change, the lovely kiwi family I was staying with Geoff and Karen (Kane's parents) persuaded me that with all my shite chat I should maybe become a teacher?! With a current teacher shortage in New Zealand it seemed worth a go. Within a week of handing in my application I was invited to an interview on the Friday, told on the spot I was accepted, and the course started Monday!!

Fast forward 9 months and I have accepted a job in Greymouth teaching Science, starting end of January 2019. Studying in New Zealand and in the tropical North Island (Tauranga) was an experience I will never forget. The main lecturer was a flamboyant hippy whose passion made the course engaging and endless fun. A lovely change from a 2-hour lecture on rock mineralogy. The people pictured below became lifelong friends and I really felt that I was living in NZ rather than just backpacking around. We had many a hike and plentiful drink a truly class time!

I guess I should talk about what it is like teaching in Aotearoa (New Zealand), especially since my dad is paying me "by the word" for this article and I am skint. New Zealand is a wonderfully diverse country and is based on a partnership between the Maori and Pakeha (NZ Europeans) so I am currently learning lots from the culture and enjoying it very much.

I have another wee story about how the students reacted to this teacher who claimed to be as kiwi as they are! After telling them I was a born in NZ to Irish parents but brought up in the Highlands of Scotland, a lot of them thought I was full of shite. I taught in two schools, Te Puke in the North Island and Nelson college for girls in the South Island. In both schools for some reason they thought I looked like Harry Potter (Daniel Radcliffe). Not your ordinary Harry Potter though, they said I looked like Harry Potter on meth (see the picture below they showed me).

So for the year 9's last lesson I dressed up as Harry Potter and with the aid of a dingy old "sorting" hat placed them into hogwarts houses. The kids were positvely fizzing and after some quizzes and riddles we went outside to play a wee game of 'quidditch'.

I am really enjoying NZ and look forward to start my teaching career! That makes half of us teachers, although you could argue easily that a PE teacher isnt really a teacher…

Alice,Louis,Ciaran and Conor

New Teachers Flowery Shirt Day ?

Harry Potter after meth !

The basement reopens one last time

James finally leaves the nest.... but is away on the Rickshaw Challenge

In Mar this year James bought a flat and decided to leave the nest in June. When James announced that he had bought a flat Liz could not hide her look of disbelief and all her decades of the rosary over many years were answered. James has been living at home for almost three years after his return from Australia .

We were both worried he might never leave his cosy set up at home after years of having his mother's undivided attention. He was getting the deal of the century at home the detail of which would take me a week to tell you so lets just say "he had it made ".

But the farewell celebrations were short lived as James seems to continue to arrive up home for his dinner most evenings which he says is needed to help Liz come to terms with her loss. Fortunately Kendal has taken some of the carers job away from Liz and I suppose you could say its a type of jobshare arrangement . Luckily they have frequent breaks as James is often away with work for a few days which allows the girls time to rest and have a chat which is totally effortless needless to say Ha Ha !. The flat is a five minute walk from our house and in good condition. It has been painted and furnished making it look homely.

James is off to India after Christmas to do the Rickshaw Challenge which sounds crazy. We will have more details next year assuming he comes back in one piece !!

Liz and Joe Visit Dubai and meet the "Beast from the East" !!

In Feb Liz and Joe went to Dubai to see the ATP tennis. Fortunately David and Catherine live there so we had a great time. We saw all the tourist sights the last time we visited and concentrated on the tennis. It is held in the Irish Village which is ideal. There is a real festive atmosphere and all amenities. David surprosed us with VIP tickets for the Tues which meant we were up with the shieks and royalty. It was great and we enjoyed the special treat. Liz was reluctant to go back to the "stalls" next day and kept looking back at the VIP section with a longing look in her eye .....then I noticed she was winking repeatedly at some rich young toyboy..... but then she noticed moi ....the sunglasses went on .....
We saw some great tennis matches including Dimitrov, Pouille, Kerber, Murgurza etc No Djokovic or Federer this time . The six nations rugby was on and we watched Ireland beat wales and Scotland beat England 25/13.

There was a bit of drama on the way home as the "Beast from the East" caused our flight to be diverted to Prestwick. There was terrible weather in Glasgow.It was absolutely freezing when we arrived in Prestwick but we soon cheered up when we heard we were going to be put up in the Trump Turnberry. So off we go on a bus to our luxury retreat for the night. The next day we were in limbo for a while then got a bus up to Glasgow airport about 12.30 but our car was stuck in car park with nearly 2 feet of snow everywhere. Lucky where we parked was near an end and the snow plough was there so we got out of the car park . We got home eventually but it was a difficult journey with snow drifts. A far cry from 24 C in Dubai !!

Liz and Catherine are ready to give David driving lessons in his new golf buggy

Sustainable city

The Irish Village

Catherine struggles to stay awake while listening to Liz

Donald Trump welcomes Liz and Joe

Turnberry

Turnberry in Feb

Liz's 40th Anniversary and The National News Flash

Weekend 12 Oct "The Girls" visit for their 40th anniversary. Yes, I can hear you gasp in in belief how do thay all look so young after starting nursing 40 years ago ???? Maybe because they are so well looked after by their handsome husbands ????.............Ha Ha !!............so true...............

Barbara, Margaret Mary and Kenno had just arrived in Glasgow airport only to be interviewed by an ITV reporter perhaps after Barbara briefly flirtatiously flashed her EHic card at him ….He was after their views on the forbidden word in our house ...."That Bloody Brexit".

Then I had a phone call from Liz to tell me about the breaking news from the airport and to make sure I watched the news and record it for them. I ended up watching the news on four different channels looking for this elusive interview The girls arrived home eventually and the excitement was tangible as we all sat down to watch the news, a large glass in hand just in case anybody felt weak and intermittent silence for the odd nanosecond or two ..... Then the girls broke into a convulsive like state when they finally appeared on the 10 o clock national ITV news ...........however the joy was short lived..... as no interview was shown…there was a brief shot of the girls chatting to the reporter but no sound ...alas they were robbed of their moment of fame and glory....

Then the truth came out .... I think the Girls broke the reporters heart .......

Unfortunately they were not serious enough as "EHIC Kenno" told him about her broken ankle then Barbara mentioned her all her 6 kids and her difficult Irish surname that finished him off . After 7 takes the producer had enough …. However after a few large glases of wine the girls finally cheered up and were still delighted with their cameo appearance . Liz was just minding their bags for them with her back to the camera trying not to get involved and stay quiet ..... a very difficult task for our Liz !!

Dinner here Fri night and it was hard to get a word in edgeways then Sat off to Achintee Inn after a bit of High Street retail therapy first.

Mary Casey has a lovely knitted hat with her….and Liz knitted a wee cardigan for her new grandson Donnacha who is Niamh's new baby .

Barbara, Margaret,Liz,Mary ,Kenno

Out on the town




David is now 30 (that is definitely not his waist measurement)

Fri April 27 and David was 30 and unfortunately he failed to turn up for his big birthday surprise dinner in Dundee. However we got over the disappointment of him not joining us for his special day but did keep a (big)empty seat to remind us of his abscence.
In fact we were able to speak about David more freely in his abscence was very enjoyable and he must have had red ears all evening. His name was mentioned frequently as one would expect for his special night out and we discused whether to cancel our presents ....We had a great night and David was slagged endlessly and there was no holding back from the brothers . Even Aoife did not defend him and that could prove costly ..... We did a birthday collection for some liposuction or botox whichever he prefers ...

Croagh Patrick is finally conquered by the Milltown Expedition

Croagh Patrick in Mayo is the Holy Mountain of Ireland and know as the "Reek ".

It is visited by over one million pilgrims a year and the last Sun in July is the busiest day with 25,000 pilgrims climbing it . It is 2507 feet high and not far from Westport.

Saturday the 4th of August has to go down in history as the day when the record breaking expedition set off from Milltown at the early hour of 8.30am. This may not seem unduly early for an expedition team to set off from the basecamp in Ballymary but believe you me if you knew the crew of this expedition it was nothing short of a miracle getting everybody into their cars ! I challenge anybody to get this truly international team of 19 people going in the morning. We had Team America ,Team Scotland and of course the local Team Coolicknalea. The Americans were hot favourites and the San Franciso team were looking very serious . They definitely had the longest legs and Kerry even had her sister Debbie who also has long legs as part of their team. The twins and Ian were also full of energy (as usual) and cousins .......

Team Tangney were up for the challenge with Ronan looking lean and mean , Baby Joe was ready to run . But Sherpa Joe was our secret weapon and we all know its hard to beat a Kerryman Aka the mountain goat..... Liz also was in top form but was inclined to be distrated by having anyone near her to start a chat about something .... Then of course Team Sheehy were also looking to take the trophy. Aoife now an international athlete and Ger with years of training was ready for action. They were smiling constantly maybe it was a fear response to the imminent threat of being beaten by all the Tangneys ....including Liz ??

So we all arrived about 9.30 and assembled in the car park. It was very clear that there was going to be a competition to see who could climb this mountain the quickest .....Two groups emerged very quickly ...the Young Ones ....and the Not so Young Ones ....you all know which group you were in !! I had to conceal my vast mountaineering experience from the young ones in case they got a panic attack . Having conquered Kilmanjaro, Mount Kenya and of course Ben Nevis this was going to be a stroll... Liz made me wear extra heavy boots in an effort to slow me down and carry a rucksack full of food for the crew. Needless to say all to no avail ... Then Joseph realised that he had entered the Ben race and had not done any training so off he went like a mountain hare into the distance in a flash.

So off we set after the team photos in the car park . Very quickly the group was dispersed and the Young ones soon out of sight . It is a more difficult than one might expect . I certainly would not liked to have done it in bare feet as is the tradition. Most of the second half of the climb is scree with no path. So one has pick one's steps very carefully and very easy to twist an ankle or fall.

There were several long pauses in the climb and Martin had a big stick with him to stop anyone going past him . It was easy to evade the big stick as he swung it wildly and even some of the rosary bead clutching Irish grannies were able to speed past him and throwing their eyes up to heaven.

Martin was not chatting much at all as he muttered to me a few times in between the heavy breathing "Joe did you bring oxygen for me ?" I said "I left it in the car park " .....I then offered to give him a Piggy back and to be honest I was relieved when he said "No ...things are not that bad just yet" .....

We were lucky to have set off early as the crowds were arriving as we came down. it took two hours to get to the top and we could hardly see each other due to a heavy mist. it was cold and damp on the top so we didnt hang around too long and made our descent. Coming down was also trickly again due to the scree and loose rocks . There were busloads of pilgrims arriving that morning and it was very busy.

About an hour and a half later we were down and got a welcome cup of coffee . It was not for the faint hearted and I would avoid it on a wet day as it is very slippery . The route does not a have a path for the second half so a fairly steep climb and demanding at times. However we had a great day out and enjoyed the conquest of Croagh Patrick.

Sherpa Joe enjoyed being first to the summit and back to the car park in under two hours .....Its so easy in the mist to overtake the young ones .. I wish .....dream on ........

Liz breaks down and sheds a few tears ....I will have to pass Martin.......

Team Slattery from San Francisco

We were all misty eyed at the summit

It was steep at times
Aoife's Shinty Season
This shinty season I was captain for Glengarry Ladies team after winning player of the year the previous season, although unfortunately did not manage to defend our challenge cup title from last year.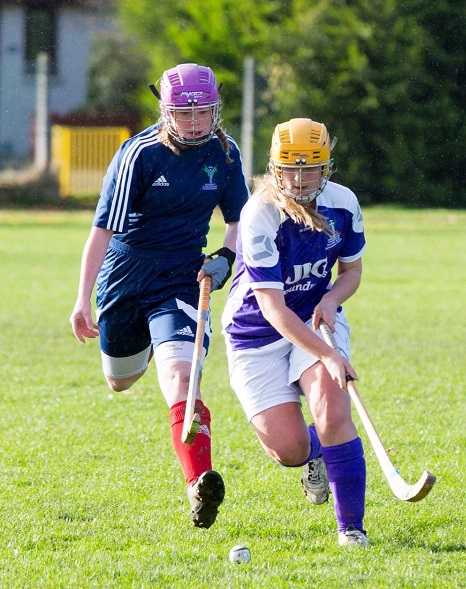 I was selected to play in the Scotland Development Squad where we travelled to London to play a camogie side and the English shinty association. We won both games and had a great weekend in London.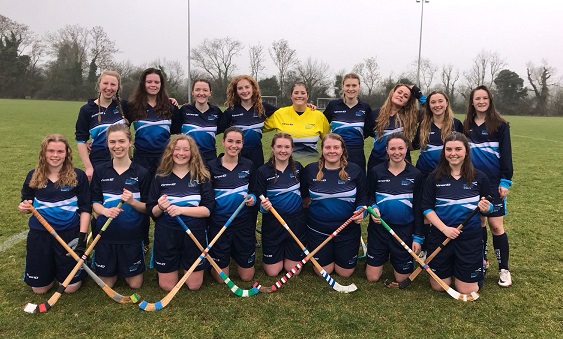 Scottish University Team
Aoife represented the North of Scotland in the senior team for the annual North vs South match in Oban where they won.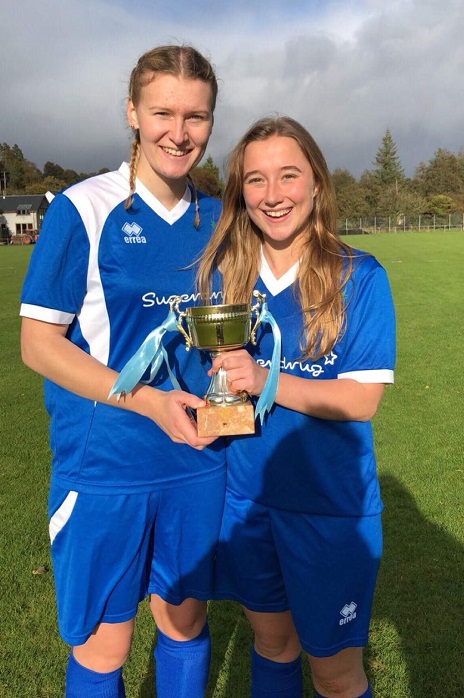 Aoife is the captain for Robert Gordon University team and hopeful to defend their undefeated season this year as well and their title of the Little John Cup Winners, the oldest cup in shinty.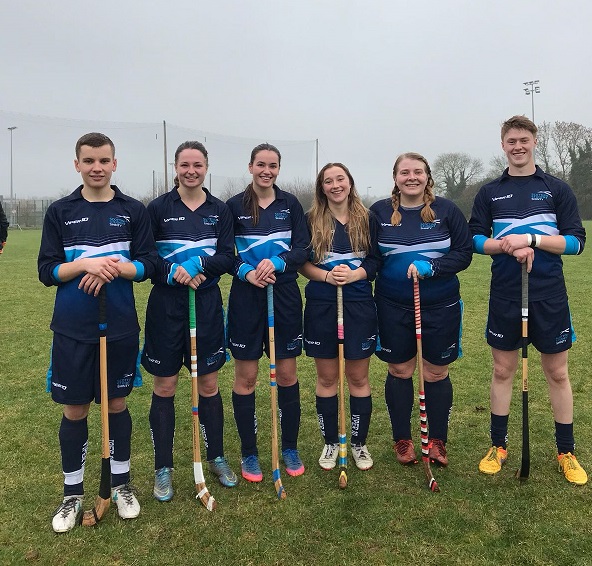 With the uni team I was picked to play against Maynooth University Camogie team as a Scotland representative. Unfortunately we lost and nobody knows the correct final score as it was that bad but ach we had a good weekend anyways!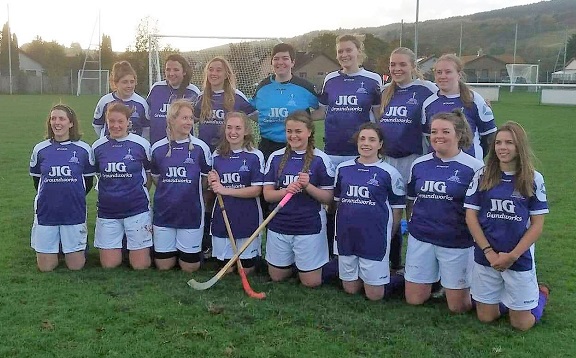 Scottish Development Squad
Ronan visits his cousins in Killarney .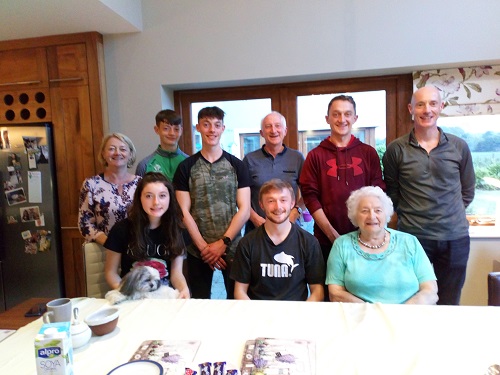 This summer Ronan did not go on a European tour but instead went back to Ireland on the annual family pilrimage after a four year abscence. First Kerry and caught up with some of the cousins pictured above. We had a great time and visited Muckross gardens in the sunshine. Killarney was buzzing with crowds of tourists everywhere.
Then on to Galway to catch up with many more cousins (see photo below) and Louis the pug !!
Ronan did the North 500 road trip with some friends and recommends it as a worthwhile trip. It was very busy in July and seems to be more popular every year.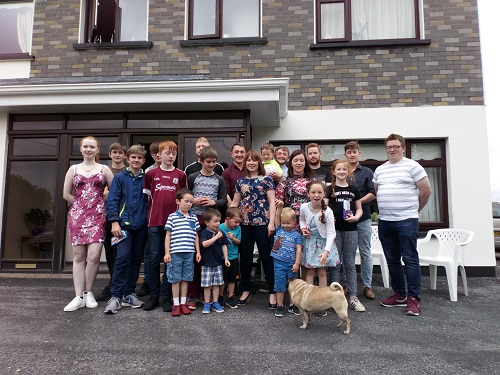 Ireland Celebrate St Patricks Day in style
St Patricks Day 2018 and Ireland win the Grand Slam in Twickenham beating England 24-15. It was 21 -5 at half time and Ireland were on fire with a great defence and hungry. An emphatic win and well deserved , 3 extra bonus points for winning grand slam and now number 2 in world rankings. Happy days !!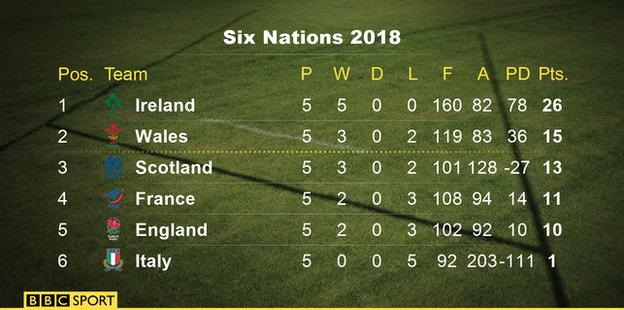 To crown off a wonderful year of rugby on Sat Nov 17 th Ireland win a thrilling encounter with the All Blacks in Dublin.
Ireland 16-9 New Zealand: 'A brutal clash with beauty laced through it' Only the second time ever that Ireland have beaten the All Blacks and a deserved victory.
Mon 3 rd Sept the Tennis siege has lifted ….
The boys and Aoife had to be warned .... your mother is on fire right now!! The US Open was on and without Amazon Prime your poor mother had not seen a single rally. She had been suffering (not in silence I hasten to add) all week.... Making in depth enquiries even from total strangers waiting at bus stops... Today we have had a breakthrough. Liz raced into Argos and grabbed a fire TV stick and hot footed home with it down in the secure depths of her handbag. After dinner Liz suddenly came back to life (just finished two brutal night shifts.... You know what I mean lads...) then I was recruited for the technical part... us boys are needed at times! So to cut a long story shorter we are now here watching the US Open live on our TV. ALL CALM in our house again...The siege has lifted after a long hard week. But Netflix and the new arrival " Alexa" could cause trouble I fear....... ....
Sat Sept 1st a big day in the racing calendar with the annual Ben Race. Joseph was competing for the second time and did even less training than last year. His excuse was the long difficult fourth year studies and the exams were in July.So he ran up Croagh Patrick in August and a half Ben 5 days before the race. Surprisingly Joseph ran it in 2 hours 14 min and 16 seconds. With some training he should be under two hours.

Local hero Dr Finlay Wild won it for the 9th time in a row in 1:27 which was 5 min ahead of the nearest competitor. Finlay is having a great international season and fourth in the world Sky Fell Series.

Ranjit and Rebecca joined us for dinner on Fri evening and we enjoyed their company as usual.It was much quieter this year as the Slattery family could not make it.

Ranjit and Joseph rub shoulders

Rebecca practices her stitching

Joseph says "anyone got some spare shampoo for Ranjit ?"

Liz Ranjit and Rebecca celebrate

Joseph Isla and Calum are reunited

Bye Bye trophy

Joseph goes off to Zambia

Joseph,Kathryn and Lawrence look dejected as they head for Africa...

Arrival

Landed in Lusaka, the capital of Zambia, the morning of the 27 th of September. Got a taxi into and drove the 30 mins to our backpackers, we landed at a time when every other tree seemed to be covered in violet flowers and shedding them onto the road so made for a very pretty picture, which I didn't take. I got dad's receding hairline not his habits, think I got a bad deal.
Arrived at the backpackers and dumped the stuff, had some hours to spare so thought we'd stop by the bus station and organise our tickets for heading to Livingstone. This was to be the first trial of Zambia. The bus station was absolute chaos. The minute we arrived we were surrounded by people saying 'Mzungu' which translates to wanderer or whitey depending who you ask. Everyone trying to offer us a deal for bus tickets, eventually we got ourselves sorted and were booked on a bus due to leave at 7am the next morning.

Quick bit of shopping and back to the hostel for some 62p beers and £2 sausages and chips could stretch to a t-bone for £6.50. On the way back to the hostel one of our party members – Brian – started walking fairly fast ahead of us and the darker it got the faster he walked. He was at the point of nearing running when he arrived at the hostel well ahead of us, when we caught up to him and could no longer see the whites of his eyes we asked him why he was bolting off and he told us he had the words of the Irish embassy going through his head the whole way back: "Don't be out after dark in Lusaka." He didn't appreciate the irony of us pointing out him running ahead probably put him in more danger but it gave us a good chuckle.
Next morning we got on the bus at 7am sharp ready to get going, we had been warned about something fondly called 'African time' and this bus certainly ran at African time which meant it didn't leave till it was full. So a very hot hour and a half later we set off on a nice seven hour bus trip. The first three hours we didn't hit tarmac as it all seemed to be under construction meanwhile the temperature climbed up from 21 to 28 degrees with the rising sun.

Livingstone

Livingstone, named after the famous Scottish explorer: David Livingstone, is an incredible place. Another of our party: Lawrence had family friends that lived in Livingstone and were very kind to put us up. Lucky for us they lived in a luxury estate right on the banks of the Zambezi river. We could hear lions and hyenas across the river at night with bush bucks coming to the river to drink. The son of the owner was a guy called Munene who showed us around the area taking us for boat rides on the Zambezi to watch the sunrise and taking us on safaris in the nearby park and even a walking tour to see some endangered white rhino's that are under 24 hour protection. He is a fully qualified guide and a keen falconer so his knowledge was incredible and added so much more to our stay. He is going to continue falconry in Galway so if anyone reading this would like to return some of the kindness he and his family showed us I would be very grateful! Will hopefully get him over to Scotland.
We of course couldn't visit Livingstone without seeing Victoria falls. Absolutely amazing! 1708m long and 108m high we also had the incredible chance to swim underneath it as part of our white water rafting tour. Probably one of the most terrifying and exhilarating things I have ever done, it included 25 rapids on varying grades. Some rapids too dangerous for us to go down had to be walked around and some I though too dangerous to go down were tackled head on. On three occasions we were flipped completely and thrown out the boat. The gorge and surrounding wildlife were astounding and we enjoyed some swimming in the calmer waters, until we saw a crocodile and decided to stay in the boat from then on.

Lake Malawi

Saint Francis' Missionary Hospital (SFMH)

Back on the 8 hour bus to Lusaka, spend the night there then another 7 hour bus to the hospital. SFMH was where we were going to spend the next 10 weeks learning in different departments and hopefully becoming a useful part of the team. I decided to spend 5 weeks in Paediatrics and 5 weeks in obstetrics and gynaecology.

The hospital in sited in the eastern province, one of the poorest parts of Zambia, and is one of the largest referral centres for the 1.96 million inhabitants. We were very welcomed to the friendly hospital by everyone we met. We had been told the hospital was in dire straits and people who had been there years had told us it was 'the worst it has ever been'. While we were prepared for a difference we were truly shocked by what we saw. The shortages in the hospital were frightening they were running out essentials such as cannulas, gloves, antiseptic, antibiotics and paper! Notes had to be written on anything, investigation requests being written on anything and results were written on anything. I don't want to focus too much on the negatives as the hospital was providing excellent treatment with so little and it really made a difference to people's lives especially and without trying to sound too cliché; it provided lifesaving treatment to those who needed it most.

The majority of the staff are all Zambian's but there was also many foreign doctors there working there in most departments. Several retired GP's had come out but also surgeons, paediatricians and general physicians too. Some aspects of the hospital seemed kinda outdated such as having to wear white coats on the wards and the nurses wearing small hats. Was like a slice out of a 1960s British hospital.
My time in the hospital was hugely valuable to my learning and I was able to see many things you don't or no longer see in the UK. On paediatrics things like malaria, sickle cell disease, pneumonia, croup, asthma, gastroenteritis, herbal intoxication, malnutrition, sepsis, rheumatic fever complications were commonly present and sadly could be and were deadly. Even with so little the hospital was able to provide a lot for these families and children. On a lighter note I do remember one day on the malnutrition ward round I was getting fairly hungry (the irony is not lost one me), one of the docs did like the sound of his voice a bit too much and so lunchtime had been and gone while we still stood on the ward. I noticed a fantastic smell had suddenly appeared and I inhaled it gratefully thinking of the lunch waiting for me. Was only after a little searching I realised the source was a baby who had just vomited on the bed behind me. Smelt bloody amazing! Being on paediatrics meant I also spent time in the special care baby unit (SCBU) which was without doubt the hottest place in the entire hospital. The heat from the sun and the crowded room alone would have been too much but the heaters were often on to keep the room a nice 37 degrees so the babies were always cosy. This resulted in me sweating enough to match the rainfall back home. After my time on paediatrics I felt hugely more confident on how to deal with a sick child and can only thank the brilliant staff for all their teaching and help.
I also spent five weeks in the obstetrics and gynaecology department of the hospital. I was even able to deliver a child during my time there and assist with many C-sections some elective and some emergency. Working in this department was something I was very keen to do as it is a specialty that I have a strong interest in. Seeing first-hand what is involved provides me with fantastic experience and great learning.

The only truly downside to our stay was a financial issue about our accommodation and living costs. The medical superintendent and us had several long discussions about the price with him at first trying to charge us three times the expected price. This left a bit of a sour taste in our mouths but with the involvement on the university we were able to come to an agreement. We worried about our money partly due to the lack of transparency but also due to the issues we had seen around the hospital. I don't want to paint this hospital in a bad light as the actual clinical side of things is outstanding and the hospital provides a service that is sorely needed and without many people would simply not survive. Our time there provided us with some of the best experiences of our medical school career so far and will likely stay will be through my career in the future. Sadly the hospital is truly on its knees and relies heavily on donations to continue, especially as the government are committing atrocities at the expense of this incredible service. The government is an entirely different issue on its own, but to give you an idea of what is happening they have not supplied the hospital with funds for medicines etc for quite some time and as such the hospital is having to use out of date products to continue essential procedures, surgeries and pretty much everything. The government carried out a recent assessment and discovered this out of date use and are now fining the hospital £25000 with threat of 20 year prison sentence to some of the hardest working people in the hospital. We honestly couldn't believe it and it is almost comical. I am saying this as before we left we all raised some money for the hospital and my donation page is still open, if you have anything to spare I would ask if you can please donate as once you look past the politics and what the hospital is doing is heroic but it can't continue without support. Thank you for reading my rant and any help you can give!

http:/responsibleelectives.everydayhero.com/uk/joseph-tangney




Other fun trips

Benson's Village tour was the tour of a nearby village lead by Benson (in case that wasn't obvious). He was one of the gardeners at the hospital and all round respected figure in the community. He took us on a tour of his village showing us the everyday life of the local people and the creative ways they lived. It was a great insight into the Zambian culture and he fed us an delicious feast of Zambian cuisine and it was the best food in Zambia by a mile.
We had some great fun while in Zambian with trips to Lake Malawi and Mount Mulanje to climb the Saptiwa peak at 3002m in 3 day trek.
We also had an amazing trip to South Luangwa National park, seeing leopards, lions, giraffes, buffalos, elephants, warthogs, hippos, vultures, crocodiles and much more. I had a rather close encounter with the wildlife one night. We stayed at a campsite right by the river, one night we were watching the Ireland v All Blacks rugby on one of the guys laptops. 10 mins into the second half the battery starts to die to I run off to my far away tent to grab a charger, it had just started pouring with the first rains of the wet season and with it came thunder and lightning. So I ran the 300m to my tent in nothing but my swimming shorts on in the pitch black pouring rain when I see a massive hippo about 15m ahead of me right in the middle of the path, lighting was cracking across the sky and I thought 'this is how I die.' Thankfully it wasn't too interested in me and I took the long way around. Running back a minute later I couldn't spot it, I barely blinked the whole way back. Cracking game though!
The next morning on the same path back about to head out on a walking safari there was three elephants in the path again barely 15m away.

Zambia was an unforgettable experience and has given me so much more than I could have hoped for. Fair to say I've absolutely loved it! Now for a few weeks holiday in South Africa to top it off.