NZ teachers go stratospheric on international high altitude plane, SOFIA
Published: 15 July 2019
Eight of the South Island's most outstanding science teachers have been selected to fly on board NASA and German Aerospace Centre's Stratospheric Observatory for Infrared Astronomy (SOFIA) while it operates out of Christchurch this winter. This unique opportunity provides teachers a hands-on scientific experience to increase their knowledge of astronomy and, once they're back on terra firma, to inspire their students.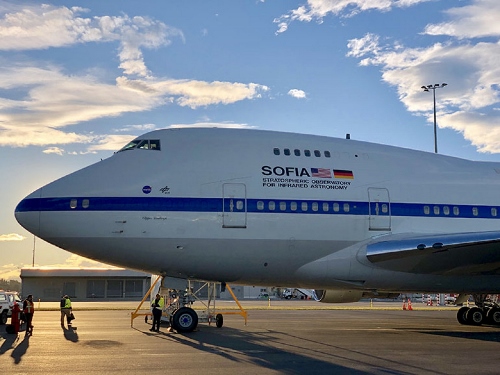 SOFIA is a Boeing 747SP aircraft modified to carry a 2.7-metre reflecting telescope. It is the world's premiere infrared astronomy observatory, flying into the stratosphere at 11,000 - 14,000 metres. This puts SOFIA above 99 per cent of Earth's infrared-blocking atmosphere, allowing astronomers to study the solar system and beyond in ways that ground-based telescopes cannot. SOFIA is made possible through a partnership between NASA and the German Aerospace Centre (DLR).
The teachers on board SOFIA took off from Christchurch on two, 10-hour missions on 25 June and 10 July, giving them an extraordinary experience to explore new frontiers in the solar system and cutting edge space technology.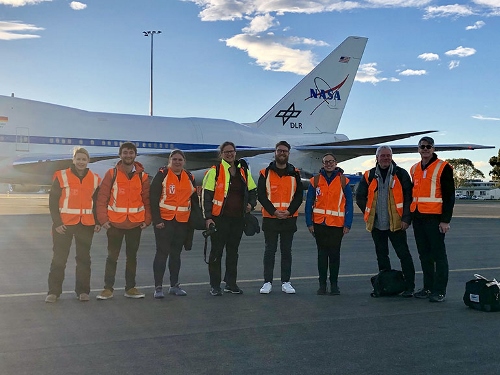 Miranda Satterthwaite, Ciaran Tangney, Carolyn Green, Anna Johnston, Tawhai Moss (New Zealand Space Agency), Briar Hubbard , Ian Griffin (Otago Museum), Rob Mitchell (Embassy of the United States).
NASA
'NASA's SOFIA mission is a great example of Kiwi and U.S. collaboration on science, space, technology and more,' said U.S. Ambassador to New Zealand Scott Brown. 'I hope this flight for teachers inspires our educators and future generations to keep working together and explore careers in science.'
The eight South Island teachers, selected by the New Zealand Space Agency and supported by the Embassy of the United States, Wellington, flew alongside NASA and DLR scientists to learn about infrared astronomy and the technologies and scientific experiments being used. SOFIA flights enable researchers to study astronomical events that often take place over oceans where there are no telescopes. Data gathered on SOFIA missions expands our knowledge of celestial magnetic fields, how stars form, planets, comets and asteroid events, and black holes.
During the flights, the educators looked-on as SOFIA scientists observed the centre of the Milky Way Galaxy, a binary star in the constellation Antila, a metal-rich asteroid known as 75 Eurydike, and a star that exploded more than 30 years ago, known as Supernova 1987A.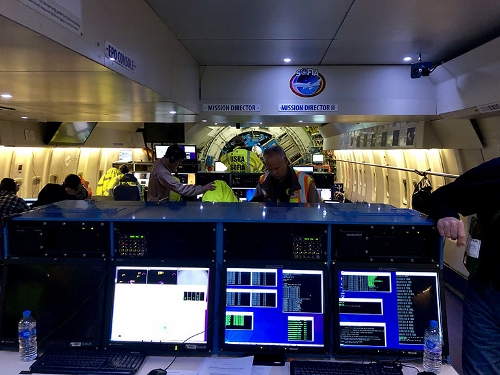 Instruments inside SOFIA working on imaging the centre of the Milky Way Galaxy using data being collected by the infra-red telescope on board.
NZ Space Agency/Tawhai Moss
Miranda Satterthwaite, Education Manager of the International Antarctic Centre says, 'Once I'm back in the classroom we're planning on running aerodynamics classes based on SOFIA's design, and some of our future projects will focus on engineering and science in extreme environments including in space, so this flight is giving me authentic content I'd not be able to normally get.'
It is big news according to West Coast teacher Ciaran Tangney from Greymouth High School, too: 'After the flight I'm already booked to talk to the school during assembly and the local newspaper has asked for an interview. This goes to show how exciting it is for the West Coast!'
'This opportunity was a fantastic way for New Zealand educators to witness scientific observations first-hand. They'll be taking that knowledge back into the classroom to teach students the value of space research, and the exciting career opportunities in the space sector,' says Dr. Peter Crabtree, General Manager Science, Innovation and International at the Ministry of Science, Innovation and Employment.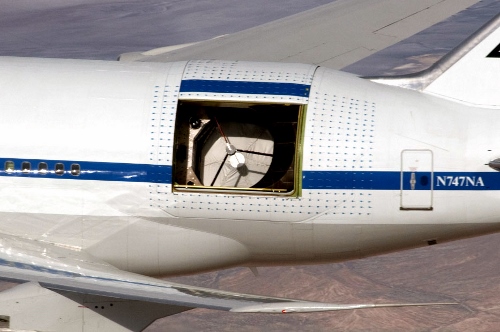 https://www.mbie.govt.nz/about/news/nz-teachers-go-stratospheric-on-international-high-altitude-plane-sofia/